TEM Solutions for Lifecycle Management of Telecom Assets and Services
---
Telecom expense management (TEM) is often a source of frustration for enterprises, especially when they are spending more than $50,000 a month on wireline and wireless telecom carrier expenses. Softeligent is a hosted software-as-a-service (SaaS) solution that supports lifecycle management of all telecom assets and services. Not only has Softeligent been disrupting the market because of our lower cost compared to other TEM solutions, but we have also been beating the competition in terms of design, functionality, quick customization and ease-of-use.
Multiple TEM solutions are incorporated into Softeligent, such as:
Store all telecommunications contracts and their associated documents for easy access and organization.
Process, validate and pay invoices using Softeligent's streamlined functionality.
Maintain a fully structured inventory of all telecommunications and IT assets and services.
Dispute entries on telecom invoices and bills a lot faster and easier through Softeligent.
Submit orders for any service or material and create workflows to facilitate frequent order activities.
Make sure costs are associated with the correct department within your enterprise.
Manage Telecom Assets Beginning to End
Softeligent organizes and manages all of an enterprise's wireless and wireline carrier services and expenses and automates carrier invoice validation and payments. Our software easily integrates with multiple client data systems, enables carrier order management and provides visibility into all IT and telecom assets. Plus, Softeligent provides extensive drill down reporting and analytics, leading to operational efficiencies, service optimization and cost reduction.
Telecom Invoice Lifecycle: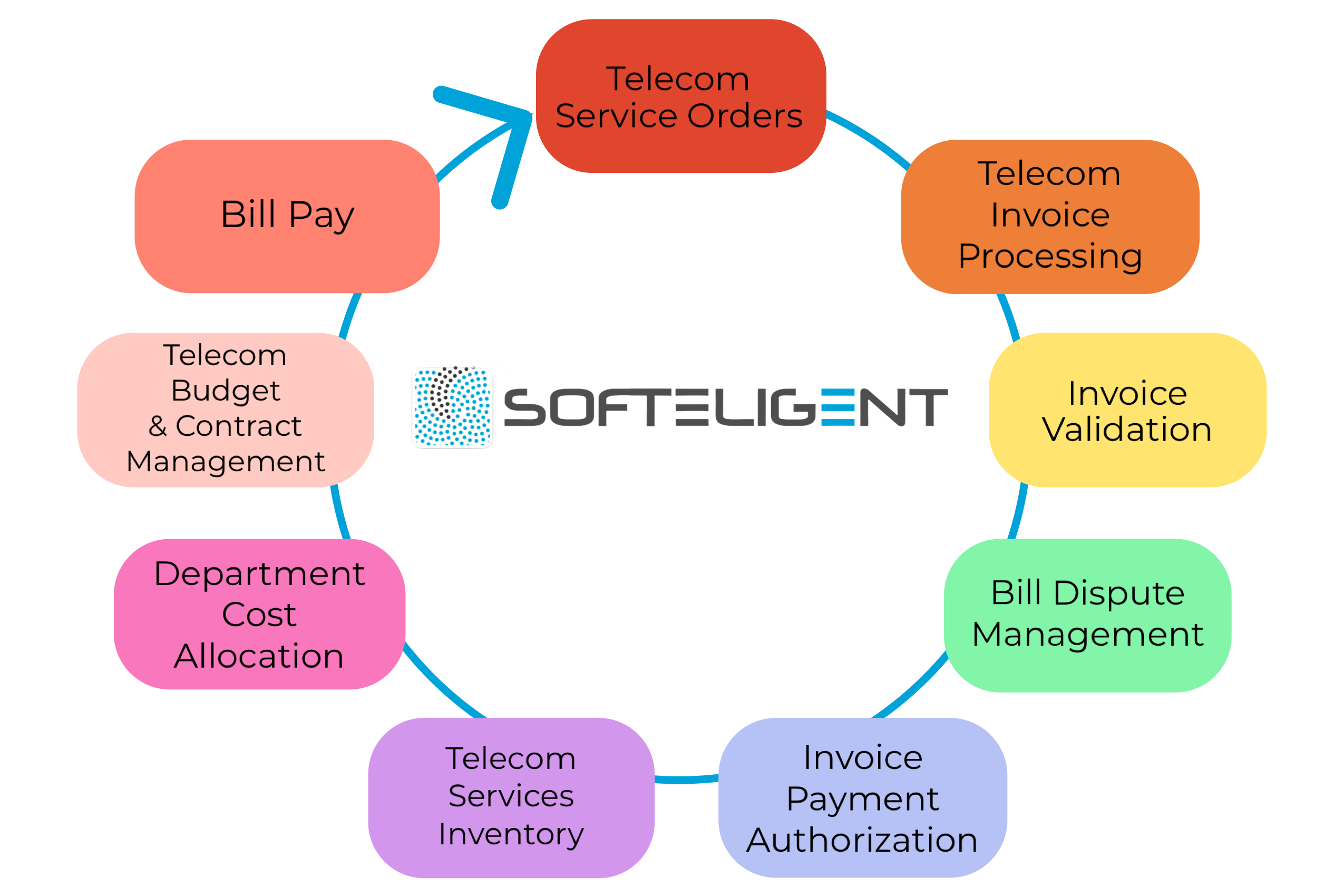 What makes Softeligent stand above the competition?
Our software was built by the people in the front lines, who understand your challenges. That means better technology.
Our pricing structure is often less than other TEM solutions, but has the same, if not better, functionality. Why are we able to offer you a better price point? Because we are not funded by venture capital, so take advantage while it lasts.
We offer fast and easy system configurations and customization. That means our software is seamlessly tailored to your enterprise's needs.
We make it easy for users to navigate intuitively based on their specific user roles and business process flows needed. That means no complex systems or complicated screens.
Contact us today for a complimentary analysis and demo.