It's not uncommon for an enterprise with over 500 employees to amass tens of thousands of dollars each month in telecom expenses and a company (we'll refer to them as Company A) we recently began working with was no different. Each month, stacks of paper invoices for wireline services would arrive in (AP) accounts payables, averaging nearly $80,000. In addition, there was a monthly bill for wireless services that amounted to about $15,000. If you have ever dealt with telecom invoices that large, you know how much paper is involved and what convoluted processes are necessary to validate and pay those invoices.
The Problem
Every time the invoices arrived in AP, a clerk would take one look at those papers and put the onus on the IT department to verify the charges; therefore, the stacks of papers were delivered to the IT department. Within Company A, once the IT department got the invoices back to verify charges, IT would do what we call a "stare and compare" process to validate that the invoices belonged to the various users and departments and to verify that all of those services were still active and reconciled with service changes. This "stare and compare" process would be based on basic guidelines. For instance, if the amount was comparable to the previous month, the IT department would append some notes and payment instructions to each invoice and then lift that giant pile of papers and walk it back over to AP. Accounts payable would then manually enter all of those invoices in the AP system for payment, which is a process prone to errors. Lastly, AP would have to also process department chargebacks for those services, which also included a very tedious manual process. It was the same scenario month after month.
An IT department at any enterprise is slammed with work, as there are support tickets to attend to and infrastructures to manage. The last thing the IT department wants to do is go through invoices one line at a time. Softeligent provides automated solutions and services making all of these processes a breeze, saving time in validating and processing invoices, but also flagging and resolving billing discrepancies that can be easily managed and tracked within the system.
The Telecom Expense Management Solution
Company A engaged Softeligent to help them implement a telecom expense management (TEM) solution. With Softeligent all invoices now are pulled in electronically into the TEM database, for easy validation, reconciliation, dispute and payment authorization processing. Within 30 days of loading the entire past 12 months of carrier invoices, we had the system up and running.
Not only did we help them integrate our SaaS solution, we also provided managed services, so that they did not have to spend time addressing discrepancies and other TEM tasks. In the process, we identified a number of services that were inactive and we are current pursuing a number of credits due to billing discrepancies and have initiated optimization tasks that can result in 30% cost savings in the next 12 months. It was a great benefit to the IT department and also AP. Instead of manually inputting the invoices, they were sent an electronic file from Softeligent with all of the elements they needed. The charges had already been validated, inventoried and the billing corrected. All that was left to do was click the "pay" button. With the new solution in place, everyone was happy.
The following is an illustration of the process we implemented for Company A.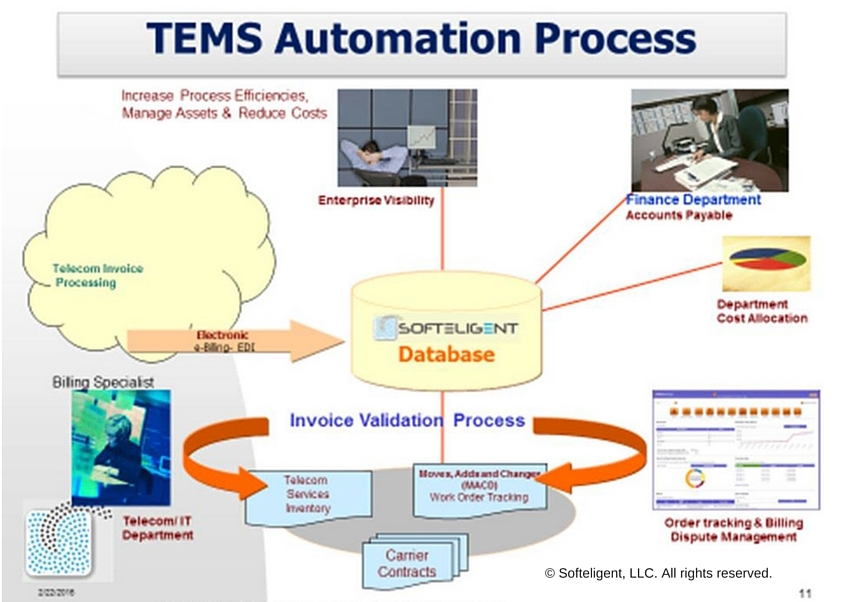 If you would like to learn how Softeligent could help you with your telecom expenses and assets, contact us today. We will provide you with a demo and custom quote.